Charles Moscowitz hosts Charles Moscowitz LIVE on Rumble. Listed as Talkers Magazine top 100 radio host and 2003 National Right to Work Committee communicator of the year, veteran radio host and author Charles Moscowitz books are available at Amazon Books. Charles Moscowitz latest book, The Populist Wave: The origin and rise of American Populism and Nationalism is now available at Amazon Books.
Listen Live on Rumble and Call In:
Show Broadcast ( Mon- Fri at 3:00 pm ) ET.
Parents of the World Unite!
Ian Prior is one of the most articulate and successful parent-activists in the United States. Armed with 12 inspiring battle-tested rules and revealing stories about sparring with self-righteous Woke neighbors (the "Chardonnay Antifa"), Ian shares secrets about what fellow parents can do in their own school districts to stop the Left's dark vision from taking root.
 
Get ready to laugh. This is not a boring education book. With real world lessons and funny anecdotes readers can connect with, Ian explains how families can win the battle to stop divisive and dangerous concepts rooted in critical race theory and other dangerous left-wing ideologies from spreading to their schools. He convincingly makes the case that the Left envisions a public education system in America where children are no longer the responsibility of their parents but rather mere wards of the state.
 
You'll be shocked and amused by the outrageous stories in Ian's suburban county that unexpectedly became ground zero for the parents' rights movement. This sign-of-the times book helpfully explains the confusing and infuriating cultural moment we find ourselves in.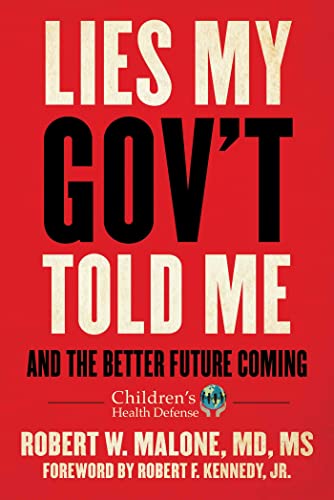 And the Better Future Coming (Children's Health Defense) Kindle Edition
A WALL STREET JOURNALNATIONAL BESTSELLER

*AS SEEN ON TUCKER CARLSON TODAY AND THE JOE ROGAN EXPERIENCE*

A guide for the times—breaking down the lies about COVID-19 and shedding light on why we came to believe them.

When he invented the original mRNA vaccine technology as a medical and graduate student in the late 1980s, Robert Malone could not have imagined that he would become a leader in a movement to expose the dangers of mRNA vaccines that billions of people have received—too often without being informed of the risks.
SD Bullion is a category on Amazon that offers a range of precious metal products, including gold, silver, platinum, and palladium. The products available include coins, bars, rounds, and other items from well-known mints and refineries. The site provides a user-friendly interface for customers to browse and purchase products, with options for delivery or secure storage. Customers can also track their orders and view their transaction history on the site. With its extensive selection of precious metal products and convenient shopping experience, SD Bullion is a popular choice for investors and collectors alike.
Canabiva is a health care products category on Amazon that offers a range of cannabidiol (CBD) products, such as oils, capsules, gummies, creams, and more. These products are made from high-quality, organically grown hemp and are designed to support general health and wellness. CBD is believed to have a range of potential health benefits, including reducing anxiety and stress, alleviating pain and inflammation, improving sleep quality, and promoting overall relaxation. The products are available in various strengths and formulations to suit different needs and preferences. Canabiva provides customers with a convenient and reliable way to access high-quality CBD products for their health care needs.
The Epidemic of Sudden Deaths in 2021 & 2022 (Children's Health Defense) Kindle Edition
2020 saw a spike in deaths in America, smaller than you might imagine during a pandemic, some of which could be attributed to COVID and to initial treatment strategies that were not effective. But then, in 2021, the stats people expected went off the rails. The CEO of the OneAmerica insurance company publicly disclosed that during the third and fourth quarters of 2021, death in people of working age (18–64) was 40 percent higher than it was before the pandemic. Significantly, the majority of the deaths were not attributed to COVID.
Bill Gates, Big Pharma, and the Global War on Democracy and Public Health (Children's Health Defense) Kindle Edition
#1 on AMAZON, and a NEW YORK TIMES, WALL STREET JOURNAL, USA TODAY and PUBLISHERS WEEKLY NATIONAL BESTSELLER

Over 1,000,000 copies sold despite censorship, boycotts from bookstores and libraries, and hit pieces against the author.

Pharma-funded mainstream media has convinced millions of Americans that Dr. Anthony Fauci is a hero. Hands down, he is anything but.

As director of the National Institute of Allergy and Infectious Diseases (NIAID), Dr. Anthony Fauci dispenses $6.1 billion in annual taxpayer-provided funding for rigged scientific research, allowing him to dictate the subject, content, and outcome of scientific health research across the globe—truly a dark agenda. Fauci uses the financial clout at his disposal in a back handed manner to wield extraordinary influence over hospitals, universities, journals, and thousands of influential doctors and scientists—whose careers and institutions he has the power to ruin, advance, or reward in an authoritarian manner.
Charles Moscowitz Author Page
Charles Moscowitz Author Page is a category on Amazon that features books written by Charles Moscowitz. The author is a conservative writer, talk show host, and commentator, and his books cover various topics related to politics, philosophy, and culture. The page provides a user-friendly interface for customers to browse and purchase his books, which include both print and digital formats. Customers can also view author biographies, book descriptions, and customer reviews to help them make informed choices. With its diverse selection of books and convenient shopping experience, Charles Moscowitz Author Page is a popular choice for readers interested in conservative thought and commentary.
On the Jewish Question by Charles Moscowitz
Karl Marx, anti-Semitism and the War against the West (Conservative Social Theory) Kindle Edition
Karl Marx published the anti-Semitic pamphlet, On the Jewish Question where he blamed the Jews for ideas that form the foundation of capitalism and freedom. Marx wrote: What is the secular basis of Judaism? Practical need, self-interest. What is the worldly cult of the Jews? Huckstering. What is his worldly god? Money!